New Town children celebrate the University of Reading's 90th anniversary.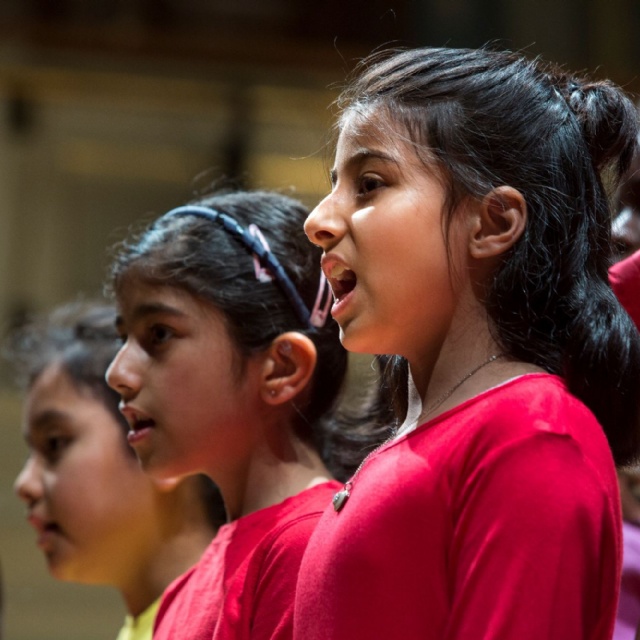 Children from the Key Stage two New Town Primary School Choir
Children from New Town and other local primary schools were invited to perform this term, at the University of Reading's 90th celebrations. The event was held at the Concert Hall on Saturday 4th June 2016. Children from Key Stage Two were invited to be part of the Choral Gala, which involved joining not only with the other primary schools but also with the University of Reading Chorus, Chamber Choir and Symphony Orchestra – as well as young musicians from Reading Youth Orchestra and the Eureka Foundation. The children performed three joint items with the University ensembles as well as performing their own piece aptly named Sing written by Andrew Lloyd Webber and Gary Barlow.
The children rehearsed, rehearsed, rehearsed before the event in collaboration with St John's Primary School children. It was amazing to see the children making new friends through their love of singing especially with the two schools joining together under the Royal County of Berkshire Schools Trust as of the 1st June 2016. Rehearsal sessions also took place at St Mary's and All Saints School during an afternoon and at the London Road Campus of the University. Dr Rebecca Berkley led these sessions and she inspired us all through her passion of music!
On the big day the children were dropped off to Mrs Kirby and Ms Parsons, ready for their dress rehearsal. For many children it was their first experience of the Concert Hall and they described it as 'an exquisite and beautiful room'! During the break from rehearsals the children were accompanied to the Forbury Gardens to relax and enjoy their tea before returning to the Concert Hall to take to the stage!!
Parents, school staff and other guests took their seats and the children were getting very excited. It was time to take to the stage……
Every child performed at their very best on the night and I could not be prouder of them.
Mrs Kirby (Choir Leader)