Rushall Farm Fun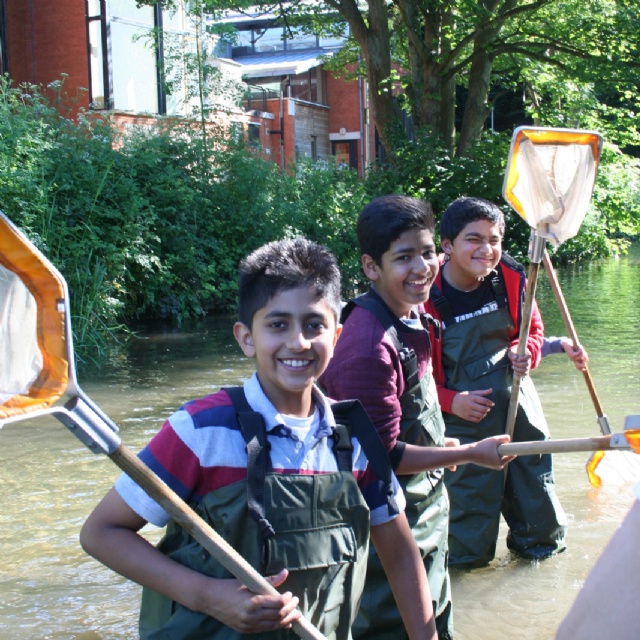 On June 3rd, New Town Primary School's Year Six (Swans) visited Rushall farm for three ex- hausting days.
I was both anxious about leaving my routine and family, to learn all about the farm and how the animals there live. Growing up in the town of Reading, I never went out to explore the world-not including the park. As we got up to so much, I'm only going to write about the most enjoyable mo-ments.
After the adults and children finished setting up their tents, our leaders (Toni and Becca) told us to go out and create a breathtaking bivouac (a shelter made of natural
materials). Outrageously, the A-team (Mr.Day, Mrs.Barrett, Samyak, Sa-manyu, Edward, Molly, Liviu
and Rebekah) won. The best thing that came out of that whole day: watching the teachers become competitive.
Just before we left, Becca showed us how to use a flint and steel. Watch- ing the sparks come out off the top of the top of the steel is always amazing. Once we got the hand of it, we were able to set alight a cot- ton ball, it was always satisfying watching the ball burn. Never set light to something without supervision. Fires can be incredibly dangerous, however, if your prepared and safe (like we were), you can learn a lot about how to survive in the wild.Time flew past and before we knew it, it was the last and final day. Toni announced that on that fateful morning, we were going swimming. Although this was great, we did have to walk two miles back. Re- luctantly, the whole class agreed and got ready to make the journey. When we arrived to Bradfield collage– it is quite posh, we got changed into our swimming kit. Confidently, I strolled out of the changing room: walked to the end of the pool (for the safety talk); we got into the pool for a swim test. Although I did not earn my way into the deep end, I did have a lot of fun, with my friends in the shallow park of the pool, by: playing volley ball (with the equipment given) and racing. Because of all the people in the way, we were barely able to finish the races– this made me upset.
After we burned all the cotton, we got on the coach to go home. We then waved Toni and Becca good-bye. Year 5s should be happy they're going next year; I had a wonderful time there. Now that I've been camping, I know how it feels to sleep on Mother Nature.