Year 6 pupils enjoy a 'Hey Clay!' workshop at Reading College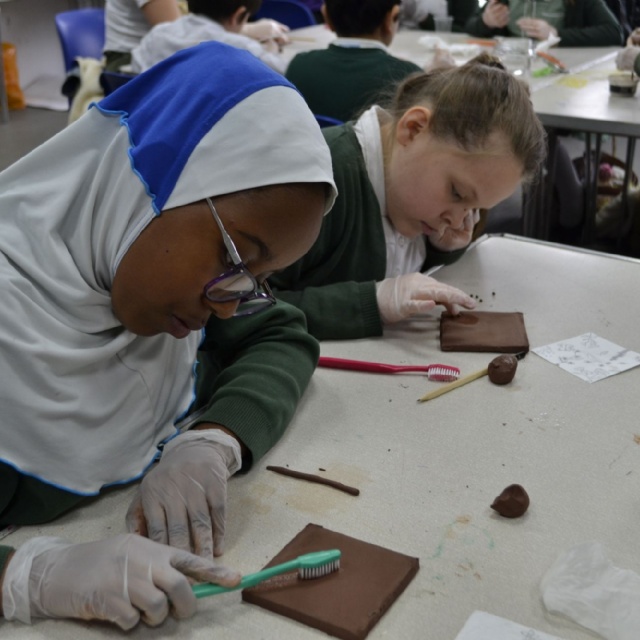 Pupils from New Town Primary School learnt about Reading's ceramics manufacturing history while creating their own tile design during a special visit to Reading College.
Held in conjunction with Hey Clay!, part of the Crafts Council's Get Creative campaign, the tile making workshop gave youngsters the opportunity to create, fire and later take home their own decorative tile.
With a little help from some of the college's Creative Industries students, Year 6 pupils used templates from the natural world, including fruit, leaves and flowers to inspire their work.
Anna Glanville-Smith, a Creative Industries Faculty Manager, said: "We are thrilled to be able to share our fantastic facilities with a local primary school, and inspire the next generation of artists and designers.
"Creative arts classes are important because they help children develop motor, language and social skills, as well as encouraging their risk-taking and inventiveness.
"We are very grateful to the Crafts Council for supporting this session, and we hope that the children's tiles now take pride of place on the mantelpiece at home!
Mr Stoves, Year 6 teacher, added: "We really want to widen out the curriculum so that children are getting lots more opportunities to show their creativity.
"It's also really important to see what's going on in the local area, and hopefully that raises their aspirations and they can see what they've got to look forward to as they go through secondary school and into further and higher education.
The children's carefully created and colourful tiles will be exhibited at Reading College's end of year show on 14 June. The exhibition is free and open to the public, please see here for more information: https://www.activatelearning.ac.uk/arrival-show